Deputy Prime Minister Tharman Shanmugaratnam is the perfect candidate to be considered for PM in 2021, despite his "categorical" denial of the role. A qualified, experienced and revered figure in Singapore, Tharman is perfect to be the fourth leader of our young and growing nation, and we have compiled a list of seven reasons why:
1. Qualifications on Paper
Tharman is decked with academic credentials from major schools around the world. With degrees from London School of Economics (LSE), Cambridge and Harvard, Tharman is overly-qualified and globally informed to take on the role of PM. He studied both Economics and Public Administration and was even awarded the Lucius N. Littauer Award for his excellent performance. His education has hence given him the right background to deal with international affairs while protecting domestic interests, something he has proven over the course of his political career so far.
2. Armed With a Singaporean Political Spirit
Having been in the ring since 2001, Tharman has collected experience navigating various portfolios, including Education, Manpower and Trade and Industry. His 8-year tenure as Finance minister is a testament to his durance during financial crises and backs the accolade he has earned from his previous stint as Chairman of the Monetary Authority of Singapore (MAS). More importantly, he proved that he is a man with long-term vision when he launched the 2014 SkillsFuture program, encouraging Singaporeans to develop skills and learn throughout their lives. Now with 17 years of experience in a wide array of ministries, Tharman is the perfect candidate to continue envisioning the Singapore of tomorrow.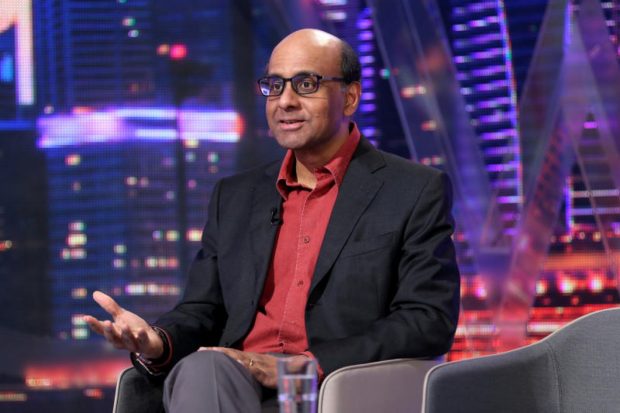 3. A National Favorite
Since 2001, Tharman has held the majority seat at Jurong GRC and has been re-elected three times as their Member of Parliament (MP). Just in 2015's General Election, Jurong GRC had a vote share of 79.3%, which was not only a massive victory against their opposition but the highest winning margin in the country.
But even outside his political wins, Tharman has proved to be a level-headed voice of reason that Singaporeans have faith in. This was especially observed when Tharman stepped up after PM Lee's health scare at the 2017 National Day Rally. His calm front came as a relief to the panicked crowd after the dispassionate address of other Deputy Prime Minister Teo Chee Hean. Not only did this come as reassurance for the people, it showcased Tharman's concern and compassion for the nation and his ability to quell their fears.
There is also data to prove Tharman's popularity amongst the people. In a survey conducted by Yahoo Singapore in conjunction with the market research consultancy Blackbox, 69 percent of the readers chose to support Tharman as a suitable candidate. Additionally, 55 percent of the people also responded that he is the first choice amongst all the other potential candidates, which is far higher than the votes docked in that category by the runner-up, Teo Chee Hean (17 percent).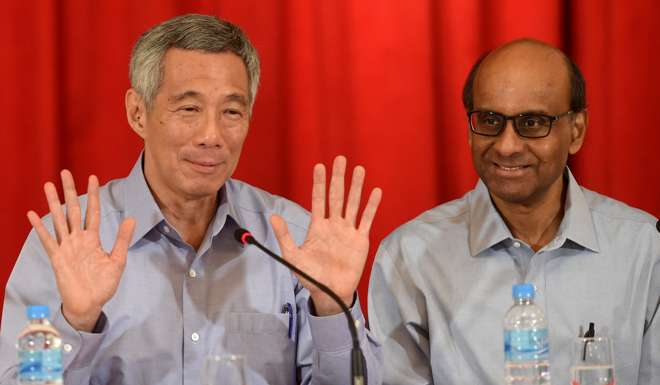 4. Unflinching in The Face of Hard Issues
DPM Tharman was the first MP to publicly address the uproar caused by the reserved election that led to the appointment of Singapore's first female president. While acknowledging the general consensus that a public election would've been fairer, he brought up the bias caused by ethnicity, religion, race, and gender. His hard-hitting speech opened the public eye to the multi-faceted Singaporean demographic. The motion also gained more meaning as Tharman himself is a Ceylonese Tamilian and hence part of a minority in Singapore. The reserved election thus gained support under the reasoning that it was important to have equal representation in candidates from time to time. This isn't the first time Tharman has delivered speeches favoring the minority and we don't believe it will be the last. As PM, Tharman will be more equipped to make conscious decisions to benefit the minority, which is something we all stand to benefit from as Singaporean Indians.
5. A Collector of International Titles
Not only is Tharman respected and loved in Singapore, his sound academic background and experience in Finance have helped him gain important international titles too. He was chosen in 2011 to chair the IMF's International Monetary and Finance Committee. He is also the first Asian chair to be appointed to the Group of Thirty, a group of international economists and policymakers with a vision to change the political landscape in the upcoming future. These experiences put Tharman in a prime position to lead the country to a favorable stature in the international ring. But most importantly, they show that Tharman is a brilliant man with a vision that is informed, realistic and appealing not just domestically, but internationally too.
6. A Relatable Figure
Leadership cannot be manufactured, and Tharman always proves this when he steps up to take charge of a situation. In an environment where bookish knowledge is encouraged and revered, Tharman stands out for his sheer political intuition and quick wit. It is this quality that makes him relatable to the public, because instead of hiding his flaws or shortcomings, Tharman celebrates how they've made him the person he is. For instance, he revealed in a 2016 interview with Tabla! that as a child, he was "completely disinterested" in studies and was harsh enough to call his younger self aimless. He even revealed that he "never had a job in mind", and put off studying medicine because it would require 6 years of hard work. By not being afraid to share such anecdotes, Tharman appears just like one of us and proves that he understands what we go through and will take decisions accordingly.
7. Never Giving Up On The Outdoors
It is common knowledge that Tharman played hockey, but it is uncommon to know that he also played football, cricket, athletics, volleyball, sepak takraw and rugby to name a few more. Unfortunately, Tharman was diagnosed with severe anemia when he was 17, but this did not stop him from continuing to pursue sports. Despite having to consume 25 pills a day, he played for the premier hockey league for the Singapore Cricket Club and Singapore Recreation Club. But eventually, he had to bid farewell to his career in sports for several health reasons. His continued success despite his diagnosis shows that Tharman has determination for whatever he is passionate about but his eventual retirement from sports shows that he has a good discernment for circumstances and acts accordingly. Such skills are perfect for the Prime Minister we need!
8. An Articulate Genius
Tharman sought to poetry to fill the void that sports had left in his life. A master of articulation that we know from hearing his speeches and rallies, Tharman is also a literary mastermind. In a 1978 collection called but we have no legends, he penned four poems and co-edited the anthology with KC Chew and Yeoh Lam Keong. The three men were in National Service at the time but also active members of the Youth Writers' Circle at the National Library. His artistic inclinations could have influenced several policies, such as the one introducing Drama as an O-level subject during his tenure as Ministry of Education, and might continue to promote rare but celebrated talents across the island in the future. His eye for such hidden gems might prove beneficial once he's PM!
9. Intrepid In The Real Sense
In 1992, Tharman was accused of revealing Singapore's second-quarter growth projections to non-government individuals and economists, one of whom was Patrick Daniel of the Business Times. This was during his tenure as the Economic Director of the Monetary Authority of Singapore (MAS) and Tharman showed true resilience and patriotism during the long-winded trial. He contested the allegations on the grounds that these figures were seen by others during a meeting and for this, he was acquitted of prison time but served with a $1,500 fine anyways. Tharman continued to hold his head high despite these events and surely, they didn't deter anyone's opinion about him as there was no evidence to prove that he knowingly communicated such classified information. He was still trusted with higher responsibility at MAS and became a prominent politician anyways. This experience is a testament to his honesty and the fact that in the face of any crisis, Tharman is a frank individual who doesn't have anything to hide.
10. A Herald For The Minority
Although 20 years ago Mr. Lee Kuan Yew said that Singapore is not ready for a non-Chinese Prime Minister, Singapore's love for Tharman might mark the start of an era where that statement is no longer true. As mentioned earlier, Tharman is a Ceylonese-Tamilian, which means that he forms a minority in the majority-Chinese People's Action Party (PAP). However, his appointment as PM will not only show the public and the world that Singapore has grown out of the ethnic sensitivity it was founded with but will be a beacon of hope to all other minorities hoping to make it big in the political ring. As Tharman has already spoken up about this issue several times, we are fully confident that as PM he will keep these interests at heart too.
Thus Tharman Shanmugaratnam is the perfect candidate for PM in every sense. As an artist, a former athlete, a representative for the nation and a voice for the minority, he is the leader Singapore needs. In the changing global dynamics, it is important to have a PM who is sincere, speaks straight from the heart and does not hide behind bureaucracy. Despite several factors being against him, such as age, personal preference, and race, we believe that if anybody can beat the odds, its Tharman. As a man who embraces the kinks in his armor, we're more convinced than ever that he just might be the face of Singapore in 2021.