There was a time in the early 2000s when it was the triumvirate of Vijay, Surya and Vikram dominating the box office with their blockbuster hits, catchy songs and 'too cool for school' acting. Who could forget the unforgettable tunes from Vijay's Ghilli, the dark portrayal of a violent amnesiac by Surya in Ghajini and Vikram's range of characters in Anniyan? They were marked as part of a new generation of actors set to take over the mantle from the greats such as Kamal Hassan and Rajnikanth and were the heartthrobs of every teenage girl at that time. Little did anyone expect for a (rather plain-looking) face to dethrone these Kings of Kollywood and today, become the first Tamil actor of his generation to make a Hollywood debut. Dhanush has surprised us all and his success has shown many of his fellow actors and the world that if you stay humble, work hard and constantly challenge yourself, just rewards will find you. Here are some things we can all take away from this new-age superstar of Indian cinema.
Don't be afraid to reinvent yourself
Back then, Ajith was not yet Thala and our Dhanush was the 'angry young man' of Kollywood. His movies mostly flopped and he seemed to be portraying the needy lovelorn teenager in every one of his characters. The only movie that I enjoyed of his was
Thiruvilaiyaadal Aarambam
when I first noticed that this young actor had the style of Rajnikanth, the dance moves of Prabhu Deva and a slither of the acting chops of Kamal Hassan.
Thiruvilaiyaadal
did set off a string of moderate to critically acclaimed hits for him including Polladhevan, Yaarudi Nee Mohini and Kutty but it was clear that he had been typecast as a hopeless romantic.
It worked for him perfectly and Dhanush could easily have stayed in that comfort zone but he chose to challenge himself with 2011's
Aadhukalam
. We all know how that turned out and with a National Film Award under his belt, he could easily have gotten many more acting roles under acclaimed directors and producers. Instead, he took the leap yet again to establish a production house, Wunderbar Films, and produced his first film, 3. Whatever you thought of the film as a whole, props has to be given for its viral marketing campaign with its title track 'Why this Kolaveri Di? ' hitting 3.5 million views within a week. No points for guessing who was the playback singer for that viral hit.
I could go on and on about what Dhanush has achieved in the past five years but in essence, we have seen him reinvent himself from a forgettable typecast actor to an acclaimed producer, a playback singer who has been invited to dinner by the Indian Prime Minister and now filmmaker. Many of us have probably faced the choices that Dhanush faced in his life. Maybe not the exact choices but more or less we've been in a situation where we had the option to rest on our laurels or take a chance on something that could challenge us but could also leave us in the dumps. Dhanush was faced with a similar choice and he's been cited in interviews as saying that even before trying his hand at directing or producing a film, he made numerous short films which he just watched himself or showed to close family or friends to gauge whether he's actually ready to take the leap. He didn't go into a new venture blindly and was cautiously optimistic that if he worked hard enough, he could make that transition into filmmaking which he eventually did
Not just in terms of directing but Dhanush's debut as a playback singer too could easily have ended up the way our dear STR's love anthem turned out - forgettable and slightly embarrassing. But it was the fact that Dhanush took the risk to think out of the box and try something new on his debut production that has propelled him to international stardom today. It's up to you and no one else to define the boundaries and expectations that you set for yourself. Like Steve Jobs said and Dhanush echoes - "
Stay Hungry, Stay Foolish
"
Never be afraid to be the only one in the room to speak up and admit flaws
With the recent success of Baahubali 2, it brought back nauseous memories of the first part for me, especially of the scene in which Prabhas stalks the strong female warrior, played by Tamannah, for a good 30 minutes and proceeds to strip her to her undergarments in less than 5. I remember watching the scene and thinking that this is clearly sexual assault and how did a bunch of producers, scriptwriters, actors and directors all sign off on it?It was clearly an abomination. Following the film's release, there were some chatter here and there but for the most part, everyone had 'Baahubali fever' and just wanted to move on.
It's become commonplace in Indian cinema for the male protagonist to stalk his female co-star for a significant part of the movie and call it 'wooing his true love'. This has sparked debate in recent months especially, over the
brutal killing
of a young girl by a dejected lover who had reportedly stalked her (just like in the movies) and proceeded to end her life once reproached. Many Kollywood actors have stayed silent on this issue with even recent films such as Siva Karthikeyan's Remo depicting stalking as an alternative to simply going up to a girl and talking to her. Even Dhanush's movies such as 3 and Thangamagan have been guilty of glorifying such a practice and honestly, I can't completely blame these actors for pandering to what has been accepted culturally in Indian cinema - That women are objects meant to be desired and subsequently, acquired. No wonder no one wishes to speak up against it - it's all about those box office numbers and the profits.
Dhanush, being equally guilty of this practice in his movies, did address this issue head-on and in an
interview with Baradwaj Rangan
, stated that in an ideal world, he'd like the audience to simply be entertained by what is seen on screen and not apply them to their daily lives. He did admit, however, that he is now more careful of the kind of content that he puts on screen and wants to keep whatever is shown in a 'positive and healthy' space. It takes guts for a rising superstar to admit such a thing and speak up on such a widely-accepted cinema practice and shows that despite his fame and success, Dhanush continues to see himself, first and foremost, as a role model for younger viewers. He understands the role of an actor to not just be an entertainer but also as an educator of cultural norms and values. In the rat race that is life, we might not want to speak up on issues that might impede our success but if it is the right thing to do, could you bear to just stand by and watch? You might say it depends on context, the situation that you're put in and the person that you're speaking to. Does it really though? When something's the right thing to do, does it really matter who your audience is or what the situation looks like? I can't give you a definite answer to that question myself but Dhanush's actions do give us some food for thought.
Be your own person
Most of you are probably considering closing the page at this point but before you do that, just look at the guy (Refer to picture below). Now, compare him to every Indian actor out there. Then, compare his looks to any Indian guy in the room right now or even to yourself . More often than not, Dhanush will probably look like one of those people rather than an actor in the industry today. When he ripped off his shirt in
Vellai Illa Patthadari
, you could almost hear the body shamers giggle.
However, his plain looks and scrawny frame have never impeded his progress in any way, especially in an industry as cutthroat as the Indian film industry. In fact, some might say that it has propelled his rise.
In a 2015 interview with Indian Express
, when asked how his looks had affected his chances in the industry, he replied "Being a director's son, I also knew that only the script matters, not looks. Whatever is in those pages can create a star out of an actor, no matter how he looks. Or bring him down too.". Dhanush stayed true to the art of acting and knowing that he can never be a heartthrob like Vijay or Surya, never set himself out to be one. He focused on his strengths and continued to build on his acting chops. Look where he is today.
To truly appreciate how far this man has come in terms of acting talent, one only needs to watch
Shamitabh
, in which he acted alongside grand maestro Amitabh Bachchan. In every film that he is in, more often than not, Bachchan dominates with his gravitas, screen presence and baritone voice. But in this movie, it is Dhanush who is the true star as he plays an aspiring actor who is mute and has to ask a voice artist played by Bachchan to be his 'voice'. A true mark of a great actor is when you take away his voice and yet, he continues to dominate each scene with his facial expressions and body language. It was truly masterful acting and in my opinion, in a class of its own.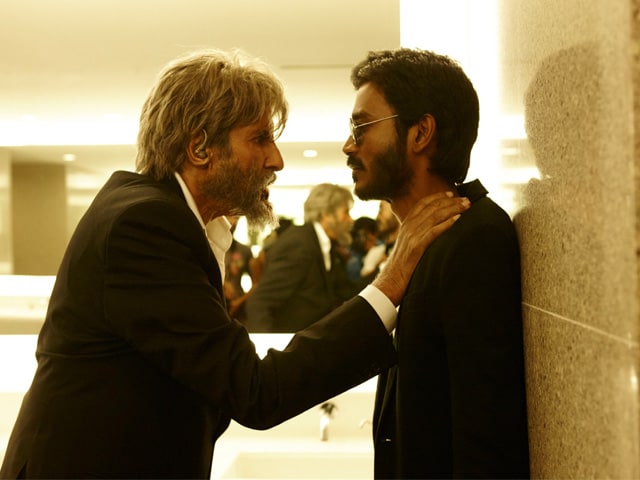 Dhanush could have moped around in the dumps of Kollywood, citing his lack of good looks as an excuse for a lack of opportunities, but it has been his sheer hard work and determination to hone this art of acting that has made him the most versatile actor in the industry today. We often live in a cycle of blaming whatever that happens to us on something or someone else so as to make ourselves feel better about our own mediocrity. We only look at our weaknesses and never choose to harness our strengths to make up for those weaknesses. Even if you take away absolutely nothing from this article, I hope you at least realise this. You chart your own path and it is up to you to make use of the resources and talents that have been given to you. No one sums it up better than the man himself.